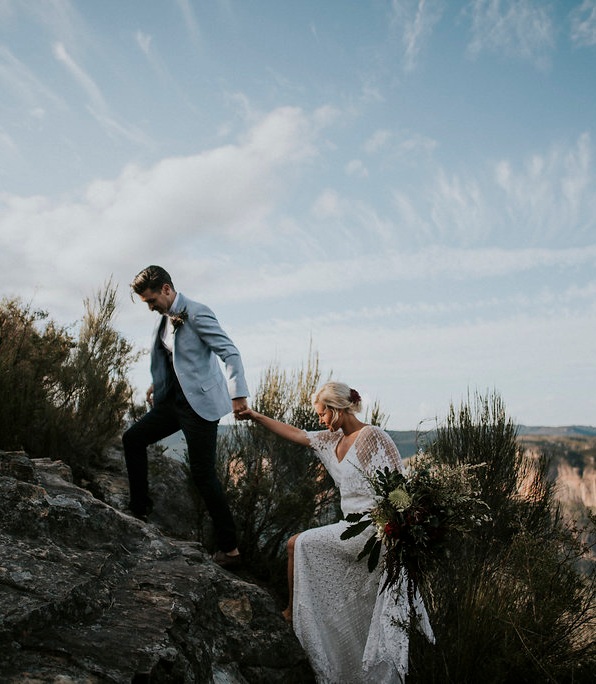 hello may
For some of us the whole shebang of a wedding day can be a bit much for a plethora of reasons. Whether you're wanting to save money or enjoy your day as a couple, we're excited to share with you the incredible collaborative efforts Anteloping, an all in one elopement service with a twist.
read more →
hello may
Despite the pressures often associated with planning an elopement, Courtney and Danny were two cool customers when it came down to the nitty-gritty. Having been together for almost eight years, the couple opted on a short six month long engagement. "We always knew we wanted to elope and have something very small and had been together for so long so it didn't make sense to wait any longer!"
white magazine
This bride roams an untouched landscape, treading her earthy surrounds with grace and elegance. The blanketing of the forest allowed for moody and natural imagery to unfold through the talented photography of Keegan Cronin. The model is dressed in an ornate Odylyne the Ceremony gown, grasping a rustic bouquet of florals.
read more →
Bohemian Elopement Shoot at Barrington Tops
Nouba
This Barrington Tops elopement shoot has us craving a romantic getaway in the woods. And If you're wondering how Barefoot & Bearded managed to capture these babes looking so in love, it's because they are – Jacob and Remi are a real life couple.
hello may
On a weekend trip down the coast, Jess was busy taking sunset snaps (for Instagram of course) whilst Nick took care of the champagne. Admiring the beautiful backdrop, Nick took the photographic reins to capture his gorgeous gal, "knowing that I would immediately ask 'show me' to check how I looked," Jess laughed. When she took the phone off him, what she saw instead was a picture of a rather stunning ring – and next thing you know, she was staring at the real thing.
romantic country wedding: sarah + stewart
white magazine
Sarah and Stewart's wedding journey began on a camping trip at Seal Rocks on the NSW mid-coast. The pair were enjoying a picnic at a secluded spot by the rock pools. They were the only people on the beach until a busload full of tourists unloaded right next to them. Sarah suggested they relocate to a quieter spot and Stewart eagerly agreed. By this stage Sarah was beginning to worry that Stewart was unwell. He had been acting erratically and needed to go to the toilet every ten minutes. It turns out Stewart's "illness" was purely nerves. They only made it a few hundred metres down the beach when Stewart dropped to his knee and popped the question before they could be interrupted again! Sarah was completely shocked, and actually responded with "Wha-?" before realising he was proposing!
hello may
As the coordinator and photographer of elopement service, Anteloping it was no wonder Joel and Bec, his wife to be, opted for an intimate Tasmanian elopement. The pair decided to ditch the traditions and take their young son Taj on a sightseeing trip. "We explored so many awesome locations on the way to Tassie as we spent a week driving from Newcastle to Melbourne to catch the Spirit of Tasmania," not a bad idea if you're wanting to incorporate a bit of a holiday with your elopement!
Suze & Garth's Epic Vow Renewal in the Stockton Dunes
nouba
Film and Foliage styled grasses, greenery and blooms to fit with the wild and romantic feel of the day. Suze's relaxed and vibrant bouquet worked with her chill style, and we can't get over that horseshoe love nest!
MEET THE NEWCASTLE STARTUP HELPING LOW-KEY COUPLES ELOPE IN STYLE (AND ON BUDGET)
collective hub
With the ever-growing costs of weddings, Newcastle-based startup and new kid on the block Anteloping is here to change the game. Think intimate, stylish, fuss-free. This innovative elopement service is exactly what the wedding industry ordered.
blooms of the week: ashlee from film & foliage
together journal
"I couldn't stop dreaming of flower hats and romantic red flowers – I had to get it out of my system! Luckily I have amazing, beautiful friend (@rubycomption) with a killer wardrobe (dress by Zimmerman)! I grabbed a hat and sunnies (Kmart!) and we cruised down to the cactus garden in the botanic gardens to capture this images.
Murray & KARA: ELOPEMENT SHOOT
together journal
Murray & Kara have been married for nearly two years now. They teamed up with Alex Johns of Alexander Photography and his impressive team of creatives to put together this beautiful bohemian elopement shoot set in the forest.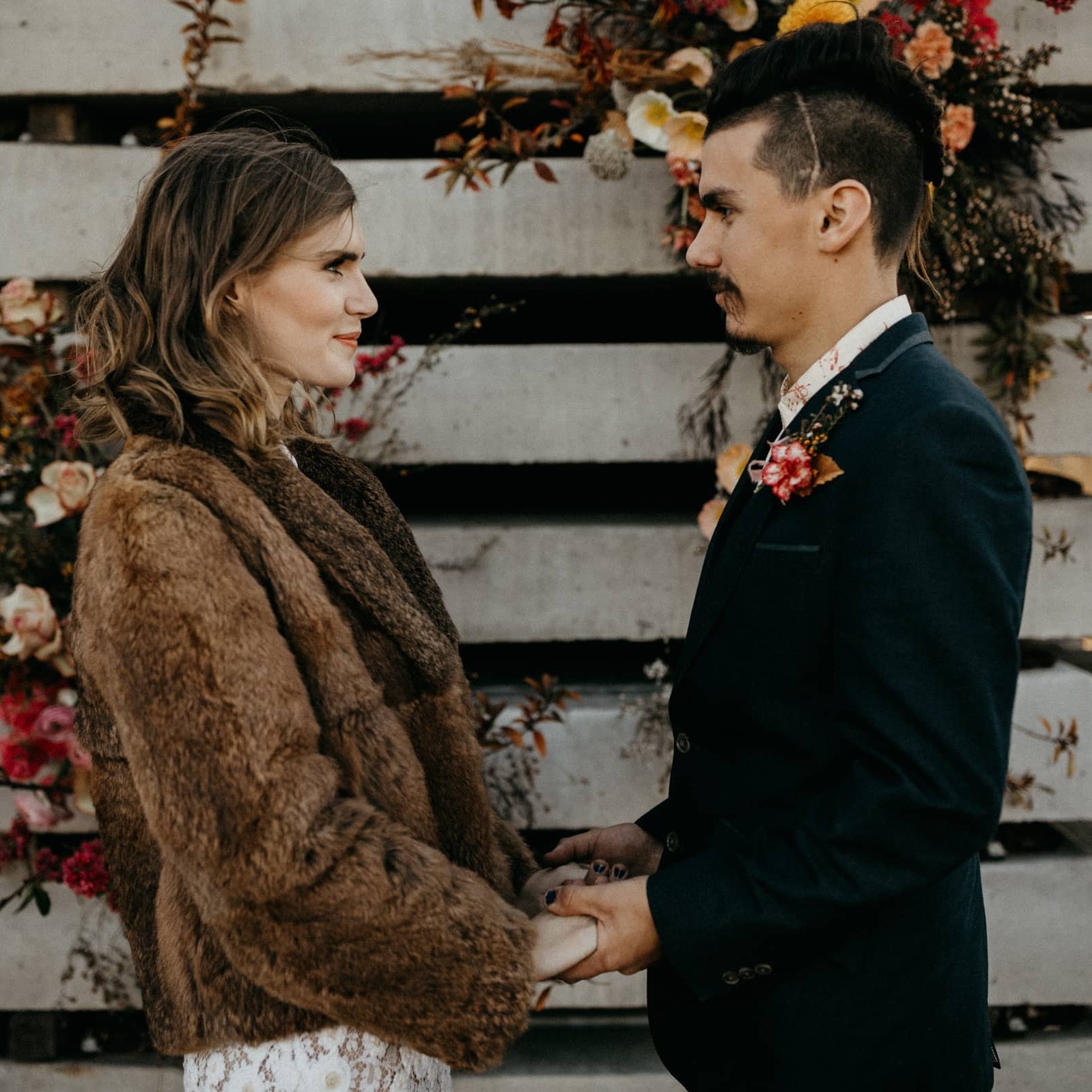 urban elopement: carrington, newcastle
together journal
We wanted to create an elopement in a random location in the streets of Newcastle. Ash from Film & Foliage created some beautiful flower arrangements and placed them on existing concrete blocks near the railway line. Lillian is a model and Gabe is a drummer. They are seriously one of the coolest couples I have met. Lillian wore a 'Skye' dress from Maggie May bridal. It was such a casual day spent laughing and walking through the streets of Newcastle.
Ashlee wheelhouse for film & foliage
flora journal
My business is just over a year old. I have a wild, messy and natural approach to floral design and I always aim to create a magical scene with my work whilst having a relaxed, fuss-free process for the client. A lot of my clients are nature lovers and trust me to do my thing which is such a lovely feeling and allows me to do my best work.
real wedding: madeline & nathan
forever journal
We didn't have any specifIc theme or style in mind but the Anteloping team put together the most beautiful scene without any direction! Florals, handmade ceramics and rose gold decorated the wooden bench where we ate. The setting itself was already made by the national park, the trees reflected both forest and tropical paradise and the cicadas were deafening.
together journal
The modern bride challenges tradition effortlessly as she glides in the afternoon light, seeking beautifully textured walls, overgrown hedges, and old stairways. She embraces the timeless architecture of the city, taken back by nature and evokes a sexy yet elegant aesthetic. Bronzed lids framed by loose curls and a silky silhouette. Chocolate tones are carried in her bouquet of oversized blooms making a statement as the wind dances with the natural silk ribbon
read more →
influence-hers: film & foliage
newcastle mirage
I'm obsessed with nature and creating with it. It's constantly on my mind, and I get so distracted with ideas constantly. I love being part of a couple's wedding day – my floral creations are in nearly every photo from that day, which is incredibly special. The lead-up to a wedding, planning everything and the trust my clients have in me means so much. The freedom to work for myself, create a lifestyle and a workday that I love, to travel for my job, explore new locations and overcome every new experience and challenge this little business comes up against.